11/30
We came back from LA and someone was throwing a party in our house! I pulled out all the pickles I had made and people seemed to enjoy them.
12/1
Davis is really into games right now, and frequently asks to play something.
12/3
It only took us two tries (I didn't know the store is closed on Mondays) but Moira finally got her glasses. She was so excited.
12/4
The kids and I went downtown for a afternoon of Christmas sight seeing. New to us this year was the bubble snow in Pacific Place. We also got to meet Santa as he was heading home from his stint there, and I got my first Davis with Santa picture.
12/5
Moira wanted to make something for her friends, so I suggested she make a game. I thought it would be doable in the time frame we had, but I still haven't finished my part of it at almost a week after Chrismas.
12/7
We had to chop down some big cedar trees that were growing too close to the house. The contractor building our garage asked if they could use some of the rounds for this path. I love how it turned out.
12/8
We moved everything around so that Davis is sleeping in the same room as Moira. They both seem to love it.
12/9
Davis has started using this baby gate to get farther up the ladder to my sewing room. No good.
12/10
I decided that since Davis wasn't having a party, I could at least bake him a cake. I took it out too early and had to rebake it which made it a little chewy, but he didn't care.
12/11
Birthday boy!
12/12
Moira bought him this cleaning kit for his birthday. He loves it. The package said the vacuum "really works!" but sadly, that just means it makes noise.
12/13
Decorating time!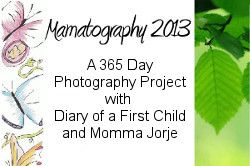 This post is part of the
Mamatography 2013 Project
with
Diary of a First Child
and
Momma Jorje
.
We are taking (at least) a photo a day to keep a record of our year. Join us at any point during the year and start sharing your own daily photos!
Also linked up at
Hobo Mama
and
NPN
.