11/23. Simplicity
My Dad needed a head shot for his ski school pass.
11/24
Not only did I forget to take a picture on this day, I also totally stopped caring about the photo prompts I've been using. I haven't even looked at that calendar for the last two weeks. Since I have no photo from this day, enjoy this bonus photo from Thanksgiving of the kids playing with Walker's cousin's new puppy.
11/25
I was trying to get laundry finished and put away so I could pack for our trip the next. I tried multiple times to get the kids set up with activities, but they just kept fighting instead.
11/26
Moira was very proud of her solution for how to carry this Barbie in the airport. It was a very secure seat too, I don't think she fell out once.
11/27
The day before Thanksgiving (or, as Moira kept referring to it, Thanksgiving Eve) we met up with Walker's Mom and went for a bike ride along the Santa Monica pier, where I saw two people having sex right next to the bike path.
11/28
The traditional activity at Walker's family for Thanksgiving is to play video games. Walker and his cousin played Mario Kart, the kids had fun on the tablets, and all the adults played a cooperative game where each of us was a member of a starship crew.
11/29
Another vacation, another science museum. Both kids really enjoyed the area that had a bunch of sound mixers set up, and various musical instruments.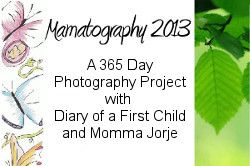 This post is part of the
Mamatography 2013 Project
with
Diary of a First Child
and
Momma Jorje
.
We are taking (at least) a photo a day to keep a record of our year. Join us at any point during the year and start sharing your own daily photos!
Also linked up at
Hobo Mama
and
NPN
.