11/16. Hair
I dyed my hair teal, but I didn't bleach it first so it was very subtle and hard to get a picture of it.
11/17. 5'O'Clock
Davis is very in to playing games right now, and sometimes it's the first thing he says to Walker when he gets home from work.
11/18. Mirror
I forgot to take a picture all day, so I took this on my way up to bed.
11/19. Where You Ate Breakfast
Obviously, I didn't eat breakfast in this closet, but I really wanted to share this picture of the newly embiggined shelves and the more organized canning stuff.
11/20. Communication
There was some serious negotiation going on for the right to ride that trike.
11/21. I Wish I Had
I took Moira and her friend to the Moonpaper Tent Tea Time. I was super jealous of this cabinet full of glitter and found objects.
11/22. Behind
We learned about the Tulalip Tribes, and
Jennifer
brought the things from her wedding ceremony, including this blanket which she and her husband were wrapped in.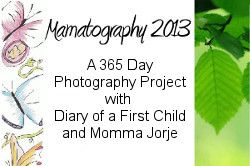 This post is part of the
Mamatography 2013 Project
with
Diary of a First Child
and
Momma Jorje
.
We are taking (at least) a photo a day to keep a record of our year. Join us at any point during the year and start sharing your own daily photos!
Also linked up at
Hobo Mama
and
NPN
.