10/5. Afternoon
We took the bus to a special firefighter day at Mohai without realizing that because of games, and a bridge closure, we would end up waiting over 45 minutes for the return bus home. Both kids were super cranky by the time it came.
10/6. 8 O'Clock
We did a baby sitting swap with friends and when it was time for everyone to split up and head home, there was a lot of hugging, which was funny because my kids were in super bad mood the whole time their friends were here.
10/7. What You Saw Today
Moira had been asking if we could buy some of the Chinese Lanterns we kept seeing at grocery stores, but when I finally went to get some they were all half dead. So I bought some of these pumpkin vines instead. Does anyone know what these are?
10/8. Corner
I'm super amused at her style. It was raining off and on, but she insisted on wearing flip flops. Silly Seattle kid.
10/9. Pink
Davis ripped apart a foam house Moira made, so we bought this replacement to make. I suppose we should actually finish it soon.
10/10. Hands
Davis is deep in the do it himself phase. Unzipping, buckling, whatever he thinks he can do , he wants to try.
10/11. M Is For...
Moving! Davis is obsessed with rearranging the pumpkins we put by the front door.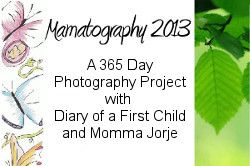 This post is part of the
Mamatography 2013 Project
with
Diary of a First Child
and
Momma Jorje
.
We are taking (at least) a photo a day to keep a record of our year. Join us at any point during the year and start sharing your own daily photos!
Also linked up at
Hobo Mama
and
NPN
.