9/28. 10 O'Clock
This was not actually taken at 10, it was only 9:45, but Davis has been staying up later lately because of teething and night weaning, and apparently, night weaning.
9/29. Gold
9/30. Found
Moira knocked her pot over while glazing it in class, so we got to remake it at home. The teacher made a little kit for us with all the material's we needed. And the second time around, Moira had much more patience for her own abilities.
10/1. Something Colorful
Davis was playing with the moon sand and ended up rubbing all over his eyes. This angry face is because I insisted on cleaning it out, so he looked a little less like he had pink eye.
10/2. Light
I've been having trouble keeping Davis entertained while Moira and I are doing something, without her abandoning our project to play and fight with Davis, so I decided to take it easy and just make some play dough. The first one we tried was corn starch and dish soap, and I thought it was really cool. Moira was less impressed, but they both really liked cleaning up and it did a great job cleaning the built up residue of clay and other things off the play dough tools.
10/3. You Today
I got to spend the morning hemming my costume and watching tv on my computer. So nice.
10/4. In Motion
Moira woke up wanting to have a home day, so we cancelled our plans. We did end up going out to lunch with my Mom to a place that gave the kids some pizza dough to play with while we were waiting for our food. It tied in well with our play dough week.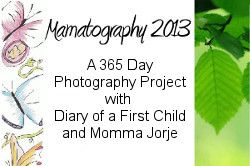 This post is part of the
Mamatography 2013 Project
with
Diary of a First Child
and
Momma Jorje
.
We are taking (at least) a photo a day to keep a record of our year. Join us at any point during the year and start sharing your own daily photos!
Also linked up at
Hobo Mama
and
NPN
.