9/21. Rule Of Thirds
My Canadian came down for a mutual friend's wedding. We took Moira, and our (also mutual) friend Sika, and had a great time with our table name. All the tables were named after weights of yarn and we were at the Fingering table.
I'm so happy to see my friend, Bea be so happy and so in love. She and Cass were the cutest brides ever. I especially liked that their dresses were the same short length.
9/22. Made Me Smile
The day after the wedding was a Skittles sewing day. Sika brought her fabric to ruminate on and I love how they all look together. That yellow is like, lemon yellow. She's supposed to be the sun, so this is perfect.
9/23. From My Childhood
We had these exact cubbies in the art room in elementary school and I loved them so so much. These are in the play room at the homeschool resource center we attend.
9/24. Space
We have grand plans for the former pond, but right now the kids are too busy playing in there to let us redo it. Not that I would get around to redoing it right now if they weren't playing in it...
9/25. H Is For...
Hop!
I was all excited by the idea of busing to school, but with the disappearance of our stroller at Disneyland, I'm not sure it will work. There's too much for me to carry, and it's a little too far for Davis to do the walk on his own. But the kids did have fun hopping on these stepping stones on the way there when we finally tried.
9/26. Curve
The new light fixture for our soon to be coop.
9/27. WTF?
So, most of the pictures I took this day were of other people's kids, and while there were a lot of startled expressions from our natural disaster fun, it didn't seem right to use someone else's kid for this prompt.
Lauren
graciously offered to let me use this one I took of Mikko, where he is not so much surprised as creating his own experiments.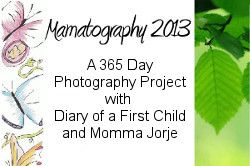 This post is part of the
Mamatography 2013 Project
with
Diary of a First Child
and
Momma Jorje
.
We are taking (at least) a photo a day to keep a record of our year. Join us at any point during the year and start sharing your own daily photos!
Also linked up at
Hobo Mama
and
NPN
.