9/14. Liquid
After 5 days at Disneyland, it was time for some serious hydration.
9/15. Season
Now that the weather is cooling off, I can actually spend time in my sewing room again. I want to let the kids join me, but I'm usually too focused to let them help. Davis loves this little iron I got from Pearl's cousin Kailey, so I showed him proper ironing technique.
9/16. Frame
Moira's first homework! After some deliberation, I convinced her to try melting crayons on hot rocks. She wanted to make some very detailed pictures at first, but she was really happy with how they turned out.
In other news, we have homework maybe once I week, and I cannot keep on top of remembering when it's due or to bring it with us. Whee.
9/17. In Front Of Me
We were taking it easy this week since we had just come back from a big vacation AND started school, but we had some errands to run, so the kids and I went out to lunch.
9/18. Vintage
Walker's friend who lives out in the middle of nowhere was in civilization for a bit, so we took her to Lost Lake for dinner. They have a new, super vintage looking cocktail menu.
9/19. What Is This?
It's a Mom's night out! You know, for a week where I was trying to take it easy, we sure did a lot.
9/20. In The Morning
The baby sitter came over and I got to try out fabric painting techniques to make the hem of my Nordic Goddess costume look dirty. This was the winner.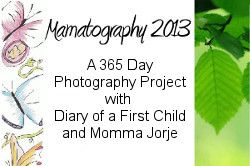 This post is part of the
Mamatography 2013 Project
with
Diary of a First Child
and
Momma Jorje
.
We are taking (at least) a photo a day to keep a record of our year. Join us at any point during the year and start sharing your own daily photos!
Also linked up at
Hobo Mama
and
NPN