8/3. Skyline
We went to a party at my dear friend, Kimberly's house. This is the view she has. I love a good tree-scape skyline.
8/4. Fresh
Because of the party, we all went to bed very late. Of course, I was the only person who didn't manage to sleep in. Lately, I seem to wake up at 6am, no matter what. Sigh.
8/5. Early
I love my pressure canner, but I find it so hard not to pull off the little cap off and let all the steam out early. It takes soooo long to finally be low enough pressure inside for me to be able to open it. Of course, one time where I pulled it off really early and made a bunch of jars explode is enough to change that habit. I still really want to every time, though.
8/6. This Means A Lot To Me
I love seeing Moira's imaginary world. She painted this sun at nature camp, but she didn't tell me which solar system it's from.
8/7. A Sign
I think maybe this box has been used a few times. It needs to be retired as a box, since the weight of all the paper inside it is pushing one of the sides loose.
8/8. Peekaboo
My friend showed my that if you lay the jar on it's side, it's much easier to pack the pickles in tight.
8/9. 2 O'Clock
Moira insisted that she was a mermaid, and this is how mermaids go down stairs. Davis wanted to be a mermaid going down the stairs too, and you can imagine how well that went.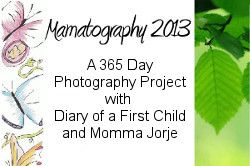 This post is part of the
Mamatography 2013 Project
with
Diary of a First Child
and
Momma Jorje
.
We are taking (at least) a photo a day to keep a record of our year. Join us at any point during the year and start sharing your own daily photos!
Linked up at
Hobo Mama
and
NPN