7/27. Black And White
I've been reading a lot lately. But not very fast, so my big stack from the library isn't really shrinking.
7/28. This Is New
While Walker was at a weekend race, I went to play games with some other parents. I kind of liked this game, Ad Astra, even though it's the kind of game I'm the worst at. Probably because it was nice to not have to worry about the kids and just sit still while I played.
7/29. Perspective
At Remlinger Farms! Davis was too nervous to ride most of the rides, but he did enjoy the train and the canoes. He enjoyed the canoes so much that he never wanted to leave.
7/30. Friendship
The first thing Davis wants to do when he wakes up from nap is go find Moira and see what she's doing.
7/31. Workspace
Up this ladder is where I sew, and where my desktop is. Right now, I'm trying to reduce my backlog of quilt projects and watching the show Awkward on AmazonPrime.
8/1. Something That Begins With N
Davis' favorite word is "no." Much to my sadness, he has recently said no to kisses and also no to smiling at the camera. So sad!
8/2. Incomplete
There's a 24 hour a day diner with an extremely retro theme near our house. It looks like an early 60's basement rumpus room. The kids and I went there for lunch, and on the way, Moira asked what a diner was, and I couldn't think how to explain it. She got to watch her milkshake being made.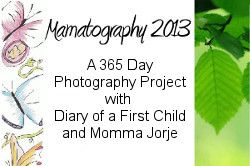 This post is part of the
Mamatography 2013 Project
with
Diary of a First Child
and
Momma Jorje
.
We are taking (at least) a photo a day to keep a record of our year. Join us at any point during the year and start sharing your own daily photos!
Also linked up at
Hobo Mama
and
NPN
.