7/19. Building
The plywood forms they built to make our concrete walls.
7/20. Hot
Yummy kale for dinner.
7/21. Fave Food
Cheese! Who doesn't love cheese? Except people who are wrong. And vegans.
7/22. Grey
We finally got some more bookshelves for the library, and when I was putting the books away, I found a giant stack of old magazines, mail and random things like this old newspaper. There was an ad for Fredricks & Nelson, and my Mom got nostalgic.
7/23. I Drew This
My printer didn't work right, so I was trying to figure out a way to copy the paper piecing pattern I needed for my round robin. Drawing them individually by hand was NOT the right answer.
7/24. Drained
So, Davis fell into this pool once, and I discovered that the center was so deep, it was over my waist. Since we have a giant pile of dirt in our yard right now, the contractors agreed to drain it for us, so we don't have to worry about small children drowning anymore.
7/25. The Everyday
Oh my goodness, it is so cute to watch Moira and Davis become friends. She always wants to hold his hand, he always wants to play her game. I know this phase won't last, but I do hope they always like each other.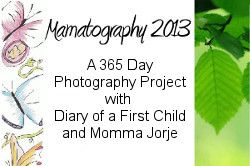 This post is part of the
Mamatography 2013 Project
with
Diary of a First Child
and
Momma Jorje
.
We are taking (at least) a photo a day to keep a record of our year. Join us at any point during the year and start sharing your own daily photos!
Also linked up at
Hobo Mama
and
NPN
.