7/5. Love
Love is sharing your water bottle.
7/6. Fave Smell
Summertime outside is the best, although I can't say wet children really add to the smell experience.
7/7. Where You Are
We went to Volunteer Park to watch "The Totally True and Absolutely Accurate Adventures of Pinnochio" which turned out to be done in the style of Comedia del Arte, which is what I picked for my costume group's costumes last year. I got a huge kick out of that.
7/8. Path
Quiet children are always suspicious. Especially when they have markers. Surprisingly, these two weren't doing anything they shouldn't, when I went to see what was going on.
7/9. 3 Things
The toddler, the garden, and a book. The kids are spending so much time sitting out near the pond lately. It's their secret hideout.
7/10. Smooth
We went to Jetty Island for the first time, and it was awesome. I loved the big flat tidal beach, and the kids had a grand time. At least until Davis fell into a giant tidal pool.
7/11. I Wore This!
I forgot to put sunscreen on my legs, so I got to enjoy a wicked leg sunburn for the next few days.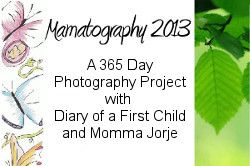 This post is part of the
Mamatography 2013 Project
with
Diary of a First Child
and
Momma Jorje
.
We are taking (at least) a photo a day to keep a record of our year. Join us at any point during the year and start sharing your own daily photos!
Also linked up at
Hobo Mama
and
NPN
.