6/28. Red
Davis' first solo popsicle. He mostly just let it melt all over himself.
6/29. In My Bag
My quilt group has a yearly weekend day retreat. I took exactly the right amount of stuff to work on, in that I finished all the work I put in this bag. Plus I got to try out the mini sewing machine someone gave me and discovered that it works really well. It had no problem putting together a whole scrap quilt top.
6/30. Helping Himself
I forgot to take the themed photo this day, so I made up my own theme. Davis actually managed to get himself a couple of chips, although it did take a few tries.
7/1. Happiness Is
Your first fluffernutter sandwich. Moira said she liked it, but she hasn't asked for another one, so I guess she didn't like it that much. Davis ended up with marshmallow fluff all over his face because he kept trying to lick the fluff off the peanut butter.
7/2. Shoes
My slip on sandals broke after years of hard use, so I had to pull out these buckle on ones. I hate taking the time to buckle my shoes when I have a kid under three, but I really do like these.
7/3. Cold
We've been having a very warm summer, but this day it was actually "cool" enough for clothes. We went to visit a friend and the kids had fun running down the hill.
7/4. Red, White, or Blue
We bought a bunch of faux flowers to keep in Moira's room, but she has decided they make a better centerpiece for our dining room.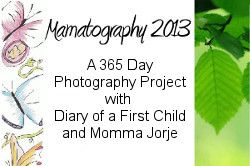 This post is part of the
Mamatography 2013 Project
with
Diary of a First Child
and
Momma Jorje
.
We are taking (at least) a photo a day to keep a record of our year. Join us at any point during the year and start sharing your own daily photos!
Also linked up at
Hobo Mama
and
NPN
.