6/21. Lunchtime
Davis spent a few days around the Solstice flat out refusing to put on clothes, and sometimes also, his diaper. That has nothing to do with this picture, other than that he is naked. He's also, sort of, able to play with a couple of aps on the tablet, like this animal piano one I was trying to distract him with while I packed lunches.
6/22. Enjoying Life
Who knew mowing the lawn was so much fun?
6/23. Last
This was the last day of Walker's annual gaming weekend with his friends. This is the pile of games he took with him.
6/24. Negative Space
Moira and I went out for tea by ourselves, since Walker had the day off of work, so he could stay with Davis. Moira was so impressed with the fancy restaurant and insisted we eat and drink with our pinkies out. I also made sure to actually listen to her talk, and ask her leading questions.
6/25. Sharp
College friends of Walker's bought us this knife for our wedding, and it is the one I use 90% of the time. It's so lovely.
6/26. Empty
Davis really wanted to play with this ball vacuum at the indoor playground we went too, but it was too loud and noisy, so he didn't stick around long enough to figure how it worked.
6/27. Fire
Some of the members of my costuming group went shopping for linen, and I was also picking up fabric for another member who couldn't make it. I really wanted to buy these sequins for her Sun goddess outfit, but I decided not to without her permission.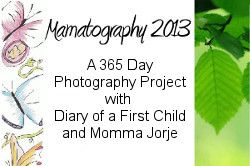 This post is part of the
Mamatography 2013 Project
with
Diary of a First Child
and
Momma Jorje
.
We are taking (at least) a photo a day to keep a record of our year. Join us at any point during the year and start sharing your own daily photos!
Also linked up at
Hobo Mama
and
NPN
.