6/14. Texture
Davis loves to lick the frosting off cupcakes, and the peanut butter off sandwiches. It's only recently that he's started actually eating the carriers fro these foods (cupcakes and bread), but he still starts with the good stuff.
6/15. From Above
This is what our yard looked like after the coop was knocked down, but before they trees were taken out. There's an even bigger hole now.
6/16. Family
We tried to fly kites for Father's Day, but there wasn't enough wind. At least the kids cooperated and let me capture some cute pictures of them with Walker.
6/17. Centered
I was feeling cranky, so I went out for a walk, and seeing all the plants and feeling the fresh air immediately made me feel more like me. I need to remember that when I'm having a hard day, but I so rarely do.
6/18. Street
I know, this is reaching for the theme, but it cracks me up when toddlers figure out how to put glasses on, and they are so proud of themselves. It's like a little glimpse of the future when he will actually be trying to be cool and want to wear his pants around knees and a backwards baseball cap.
6/19. Currently Reading
My friend
Amy
and her family came for a visit. Our daughters pretty much disappeared into the dress up area and didn't reappear unless we made them, and the boys kept checking each other out and trying to figure out how to interact. Here, Joe is "reading" this book to Davis by pointing at every picture and asking "Want that?" to which Davis says, "No!" He eventually got to something that Davis said yes to, and was so surprised that he forgot what it was immediately.
6.20. Cute
We had a little meetup with some of the other local
Natural Parents Network
volunteers at the children's museum, but because
Lauren's
kids are on a totally different schedule than everyone else's, half the kids were trying to fall asleep on the floor when they got there, so I invited her over for dinner. Mikko found Amy's husband's hat and proceeded to rhythmically march (I don't dance, Shannon, I just walk) around the living room shouting, "YeeHaw!"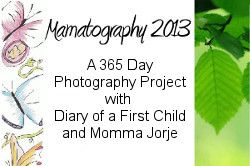 This post is part of the
Mamatography 2013 Project
with
Diary of a First Child
and
Momma Jorje
.
We are taking (at least) a photo a day to keep a record of our year. Join us at any point during the year and start sharing your own daily photos!
Also linked up at
Hobo Mama
and
NPN
.