6/7. Bright
I'm not so sure that's a good idea there, Davis.
6/8. An Animal
Davis is obsessed with the snake cages. He has been for awhile, but now that he knows how to take the lids off, I've had to cover them up with heavy books so they don't escape. It's hard enough hunting corn snakes down in a house without having to also keep the kids calm because there's a snake on the loose.
6/9
This was the only photo I managed to take this day. The theme was supposed to be "From Down Low," but I can't figure out a way to make this work with that. So instead, just enjoy this awesome Quiddler hand.
6/10. You!
Davis wanted no part of this. We were at the dress rehearsal for Moira's ballet recital and he was done.
6/11. Something Funny
Why does he always try and go down from the bunk bed the wrong way when we are watching. If we aren't watching he does it just fine.
6/12. 11 O'Clock
They finally broke ground for our soon to be garage. The kids were enthralled watching the big truck work.
6/13
Another day where I forgot to take the themed picture. But then, the theme was "Kitchen" and we weren't home all day. First we went on a ferry to scatter my Grandmother's ashes, and then the kids and I spent the night in a hotel, as Walker was out of town for work, and we had a birthday party up north to go to the next day. They were super cute most of the day.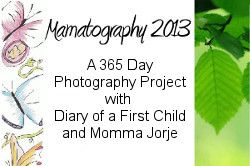 This post is part of the
Mamatography 2013 Project
with
Diary of a First Child
and
Momma Jorje
.
We are taking (at least) a photo a day to keep a record of our year. Join us at any point during the year and start sharing your own daily photos!
Also linked up at
Hobo Mama
and
NPN
.