5/31. Four Things
We went to a birthday party at Chuck E Cheese. I think it's hilarious how much Davis loved skeeball. He wasn't very good. Moira, on the other hand, is actually getting able to get the ball into the hoops.
6/1. B is for...
It's fabulous that we can get Moira to play some of "our" games now, instead of just Candyland. She really likes Ticket to Ride.
6/2. A Moment
I took the kids for a picnic in the park, so Walker could have some time to himself.
6/3. On my Table
Technically this isn't my table. Or a table at all. We were learning about bugs at Moira's nature school, and this was the incredibly detailed bug she made. She added some spots and a few legs after I took this picture.
6/4. After Dark
This guy has decided that he doesn't need to go to sleep until 10pm. It is tiring for the adults, but not for him.
6/5. Environment
The new otter exhibit at the zoo is pretty cool. And the otters must like it, because they just had babies. It's been a really good year for babies at the zoo. The sloth bears, otters, lions, and snow leopards have all had babies, and the giraffes are expecting.
6/6. Transport
Moira's favorite way to travel.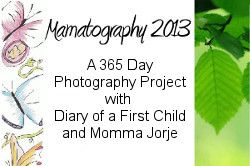 This post is part of the
Mamatography 2013 Project
with
Diary of a First Child
and
Momma Jorje
.
We are taking (at least) a photo a day to keep a record of our year. Join us at any point during the year and start sharing your own daily photos!
Also linked up at Hobo Mama and
NPN
.