5/17. Season
Spring is far and away my favorite season.
5/18. I Want
This is the Eiffel sandwich from our local organic co-op. I wish they had it in their deli more often, because it's my favorite thing, by far.
5/19. My Favorite View
I love watching my parents with my kids.
5/20. Light
This giant patch of mushrooms was hiding in a little copse of trees at outdoor preschool. Most of the children (including Moira) were afraid to touch them, and I realized I may have layed my "NEVER touch a mushroom!" lessons from our old forest walks on a little thick.
5/21. I Care About This
He is so methodical and careful, and so very gentle. I really want to help him hold a space in his life where he gets to be the gentle and kind person he is.
5/22. Change
Every day he gets more and more capable, but at the same time, more reckless. He's been going down the stairs by himself for months, but in the last week he fell down them twice because he's trying to walk up them the same way Moira does. He also figured out how to climb over the rail at the top of the bunk bed, but refuses to try coming down the ladder, in favor of climbing over the railing anywhere the ladder isn't, so we've had to start taking it down while we are playing up there.
5/24. Go
Going for a walk is a big favorite of all of us. It is getting more difficult now that Davis doesn't want to ride in the baby carrier or the stroller. He prefers to walk for a block and then have me carry him the rest of the way on my hip.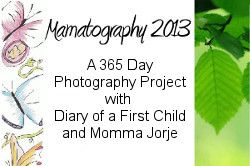 This post is part of the
Mamatography 2013 Project
with
Diary of a First Child
and
Momma Jorje
.
We are taking (at least) a photo a day to keep a record of our year. Join us at any point during the year and start sharing your own daily photos!
Also linked up at
Hobo Mama
and
NPN
.