5/10. Stars
I found this five shaped sparkler while we were looking for Mother's Day presents, and then forgot to give it to Moira on her birthday. She played with it on my birthday instead, and after a little hesitation, she thought it was cool.
5/11. A Smile
I loved the outfit Moira put together for our family trip to the zoo. She was in a delightful mood, and danced through the whole trip, so I ended up taking a lot of pictures. We didn't get to see the new otters (the purpose of our visit) but we did get to have bacon, and do the special Mother's Day activities they had set up. We also rode the carousel, and Davis pointed out every single horse on it, "Neigh! Neigh! Neigh!"
I think it's funny that horses were the first animal sound from both of my kids. It made sense for Moira, since we could see horses from our living room window (and front yard, and every time we drove anywhere), but Davis doesn't have that visual cue. He just knows they are awesome, I guess.
5/12. A Mother
The amazing
Lauren
baby sat my kids ON Mother's Day so Walker and I could go out for a dinner for my birthday.
5/13. Sunrise/Sunset
We don't really have a good sunset view because there is a hill in the way, and I missed sunrise, but this was what the sky looked like while the sun was setting.
5/14. Need
I needed a break this day, but it was hard to come by. I eventually convinced the kids to play upstairs while I watched the Great British Sewing Bee.
5/15. 7 O'Clock
At 7, I was having drinks and dinner with my friend
Jennifer
at a dive bar near my house. Apparently taxidermy is hip right now, because this isn't the only par near my house with hunting trophies.
5/16. Mailbox
Our mailbox looks really pretty right now, but then the wisteria loses it's flowers and makes a runner for the parked cars on the street. It requires a lot of upkeep.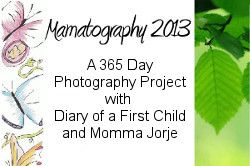 This post is part of the
Mamatography 2013 Project
with
Diary of a First Child
and
Momma Jorje
.
We are taking (at least) a photo a day to keep a record of our year. Join us at any point during the year and start sharing your own daily photos!
Also linked up at
Hobo Mama
and
NPN
.