5/3. This is Really Good
I was feeding this yogurt to Davis all wrong. Bites too big, or two small, or not fast enough, or too many bites in my mouth. Something. So he took matters into his own hands.
5/4. In My Cup
I had a headache for a few days in a row, coinciding with super hot weather. I finally remembered that I could make iced tea in the morning, which helped things feel part of the way better. It's too bad I don't have caffeine every day, since I'm really bad at remembering things outside of my normal routine when I'm in pain. It's a good fix for my headaches, but I almost never remember to do it.
5/5. Paper
Detritus from Moira's birthday party.
5/6. Broken
We went to Moira's Fiddlehead Forest school at the Arboretum this day and learned all about decomposers. We found lots of broken trees teeming with happy life.
5/7. Something Beginning with F
Lilacs! We have these all over the yard. Too bad they aren't the family favorite dark purple lilacs, although I did just find a very crowded one in a hidden corner of our yard, which I plan to transplant.
5/8. Shape
This day was watch week at Moira's ballet class. Her teacher is constantly telling the kids to "make a shape!" when she wants them to stand still.
Here's a video of their practice for her first recital.
5/9. A Snack
I came downstairs for a snack and found these dark purple lilacs delivered by my aunt for my birthday. They are from a bush in her yard that came from a cutting of my Grandmother's lilac bush.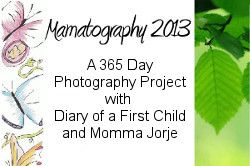 This post is part of the
Mamatography 2013 Project
with
Diary of a First Child
and
Momma Jorje
.
We are taking (at least) a photo a day to keep a record of our year. Join us at any point during the year and start sharing your own daily photos!
Also linked up at
Hobo Mama
and
NPN
.