4/12. In the Middle
4/13. View From Your Bed
Not that we see this view very often, since we like to sleep in the dark so the curtains are constantly closed.
4/14. Water
We had dinner at Walker's favorite restaurant in Mountain View. The kids were not really into the idea of sitting still after our delayed flight, and all the shuttling around to get to and from the airports. But water is delicious always.
4/15. Alone
Moms never get to be alone. Even at the playground.
4/16. Your Favorite Color
Moira got a fever, so we only left the hotel to take Walker to and from work. But there was a fair amount of green in the room, and Davis found some interesting ways to keep himself busy while Moira napped.
4/17. Busy
This little sushi set kept Davis busy for a long time. He really wanted to figure out how the tongs work.
4/18. Hello!
We went to the Children's Discovery Museum of San Jose, and they had the neatest toddler area called the Wonder Cabinet. This octopus waves it's arms when you turn the crank.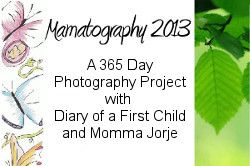 This post is part of the
Mamatography 2013 Project
with
Diary of a First Child
and
Momma Jorje
.
We are taking (at least) a photo a day to keep a record of our year. Join us at any point during the year and start sharing your own daily photos!
Also linked up at
Hobo Mama
and
NPN
.