I plain forgot about this last Wednesday, so I'm going to do two weeks at once.
3/22. About You
My hold list at the library.
3/23. What You do for Fun
So many of my recent pictures are Norwescon related, because this is the big thing I do every year. I realized when I was packing that every outfit I packed was handmade, and I was so happy. My two big fun things (sewing and Norwescon) go so well together. After I took this picture, I swapped out the black shirts for some colorful ones, because why the heck not. There was actually one more outfit added, made from the tshirt I got for being staff, and a lot of the kid's stuff was made by me too.
3/24. Up
Pinata time! I was impressed that the kids actually managed to kill the pinata on their own. Then the birthday girl decided to kill it all the way after everyone had gotten their goody bag.
3/25. In Your Drawer
Walker is obsessed with keeping the condiment packets that come with takeout. We have a lot of red pepper flakes.
3/26. Something I Did
I attacked the ivy. It's a start?
3/27. Pair
We played SkipBo. It's been awhile for me, and I forgot a bunch of rules.
3/28. In the Mirror
Ready to dance. This skirt was not a good dancing skirt. Lesson learned.
3/29. Goodnight
Moira got to stay up late and go to her very first dance (and stayed up late to do it). She had a great time doing ballet with my friend Kimberly.
3/30. Relax
Party hard, drink a bunch, sounds relaxing, right? Good thing I only do it once a year.
3/31. Stuff
All packed up and ready to go home.
4/1. Play
We went to talk to the architect about the plans for our future garage, and they had this cool barn out for the kids to play with. Moira gave Davis all the non-farm animals to play with, like the triceratops and the giraffe, but he wanted to play peek-a-boo instead.
4/2. Blue
I really need to clean my sewing room up soon. It is amusing that all this blue stuff (a box of patterns, a quilt that needs binding, and bits from my gypsy costume) all ended up piled together.
4/3. Something That Begins With an A
Art time!
4/4. This Happened Today
The start of a canning binge. We need to defrost the freezer, so I needed to process all the leftover bits from summer. I did tomato sauce and paste, two kinds of stock, and apricot jam before I ran out of energy.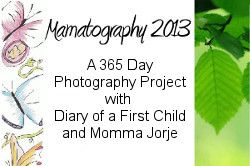 This post is part of the
Mamatography 2013 Project
with
Diary of a First Child
and
Momma Jorje
.
We are taking (at least) a photo a day to keep a record of our year. Join us at any point during the year and start sharing your own daily photos!
Also linked up at
Hobo Mama
and
NPN
.