4/5. Something Good
Moira wanted to make a cake while her Grandpa was here since he won't get to come for her actual birthday. She decorated it herself, by piling everything in the center and being annoyed that the sides weren't getting covered.
4/6. Air
I love the sound of popping lids.
4/7. Dreamy
I love when the kids get so into an activity that nothing distracts them. Davis was going to take all the magnets off the fridge if it was the last thing he did!
4/8. On Your Plate
This was all that was left of dinner. I guess it was a hit. Recipe
here
.
4/9. Tiny
4/10. A Place
I went out with my good friend
JW
and we played Arkham. We totally played it wrong, because I didn't want to spend half an hour reading the instructions, but we still lost. We also got a number of compliments on our excellent game choice.
4/11. Detail
We went to Chuck E Cheese with
Lauren
and the hobo kids because she had agreed to test their new phone ap, but it wouldn't run on her phone. All the kids thought it was awesome. Well, Davis and Alrik didn't really care, but they got pizza and ice cream out of it, so they were happy.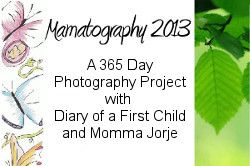 This post is part of the
Mamatography 2013 Project
with
Diary of a First Child
and
Momma Jorje
.
We are taking (at least) a photo a day to keep a record of our year. Join us at any point during the year and start sharing your own daily photos!
Also linked up at
Hobo Mama
and
NPN
.