3/15. Explore
We went to Canada and Davis discovered how fun it is to do your own walking, which made the fact that we were walking long distances much harder.
3/16. 9' o'clock
We were checking out of the hotel at 9am.
3/17. Green
Last sewing day for my costuming group, and I was so close to being done with my costume!
3/18. Shoes
We really need a new shoe storage system.
3/19. A Sign
This sign lives at the top of our hill in the winter, but it's usually folded up near the sidewalk. I have no clue why it was in the middle of the street this day.
3/20. Clean
Davis decided it was his job to reorganize the rocks in this yard near the bus stop.
3/21. Working
We got a new fridge! And it actually works. Our dishwasher took a lot longer to get installed correctly.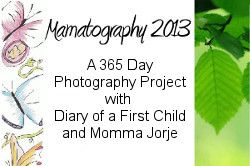 This post is part of the
Mamatography 2013 Project
with
Diary of a First Child
and
Momma Jorje
.
We are taking (at least) a photo a day to keep a record of our year. Join us at any point during the year and start sharing your own daily photos!
Also linked up at
Hobo Mama
and
NPN
.