3/8. Favorite
Davis loves bright colors, especially orange. He was so ridiculously excited when he picked out this sock and shirt combo. Sometimes he just carries those socks around for awhile, because they are so awesome.
3/9. Faceless Self-Portrait
My costume! Almost complete and minus the shoes. I'm so excited to wear this.
3/10. I Want
A warm nose. This was my first time skiing since before I was pregnant with Moira. It wasn't the best weather, but I still had a blast.
3/11. Important
Davis would like to let every one know that he is a big kid, and he can do any art Moira can do, and also, we should let him have free access to the snack cupboard.
3/12. In the Distance
A future where there are hand written stories, and many many other things.
3/13. Sound
We made popcorn for a snack. Davis was not a fan of the loud noise.
3/14. Tasty
Sweet and salty hazlenuts. Yum.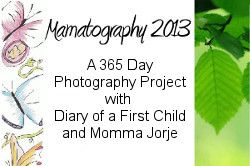 This post is part of the
Mamatography 2013 Project
with
Diary of a First Child
and
Momma Jorje
.
We are taking (at least) a photo a day to keep a record of our year. Join us at any point during the year and start sharing your own daily photos!
Also linked up at
Hobo Mama
&
NPN
.