3/1. L is For...
(Lesbian) Love. Our Polly Pockets have a LOT of weddings, but there are only two male Pollys in our collection, and they never get to be in the wedding. I'm pretty sure it's because they don't fit in the pretty dresses.
3/2. I Made This
A quilt for our guest room. I just need to hand sew the binding, but it's been shelved until after Norwescon.
3/3. Key
You can see why the baby thinks it's a great thing to suck on.
3/4. Lucky
Walker came back from his work trip too sick to go to work, or really help with the kids. So on this day, the three of us decided to go play in a little covered play area and get some energy out. Lucky Davis, there were four Cozy Coupes to play with, so he actually got to ride in one. He liked to climb in over the door and out under the front.
3/5. Under
I hid from everyone for a little and also hid from the sewing I was supposed to be working on to quilt a little of my house quilt.
3/6. Chair
Davis is slowly starting to enjoy chairs, but they are mostly just a vehicle to get to the top of a table. Immediately after this, he found some scissors and tried to figure out how they work.
3/7. Fear
We spent Thursday evening at the new Mohai with
Lauren and kids
. Mikko is afraid of glass elevators, but he insisted that we go all the way to the top floor anyway, and back down in the elevator. Here he is, steeling himself for the downward journey.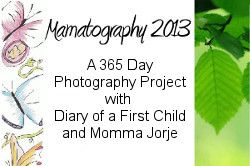 This post is part of the
Mamatography 2013 Project
with
Diary of a First Child
and
Momma Jorje
.
We are taking (at least) a photo a day to keep a record of our year. Join us at any point during the year and start sharing your own daily photos!
Also linked up at
Hobo Mama
and
NPN
.