2/22. Makes You Smile
Look! It's this photo again because I accidentally posted it instead of the photo I forgot to post for 2/21! Oops!
2/23. A Word
Trying out one of the recipes from my Grandma's collection. I've been surprised at how few of these rely on prepackaged things as was the vogue when she was collecting many of them. I wouldn't make this again, apparently I'm not a huge fan of tarragon.
2/24. Cloud
In these parts, the whole sky is frequently one big cloud, with occasional darker clouds layered on top. Fun!
2/25. On Your Bedside Table
We don't have a bedside table, because there's a mattress there, and our headboard has storage. This is on top of the headboard.
2/26. Quiet
This is what the big people were doing during quiet time.
2/27. Play
Showing off her moves.
2/28. Upside Down
I made a hat for my costume right before succumbing to a GI illness. It spent a lot of time in this position while I glued things.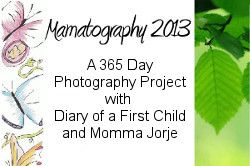 This post is part of the
Mamatography 2013 Project
with
Diary of a First Child
and
Momma Jorje
.
We are taking (at least) a photo a day to keep a record of our year. Join us at any point during the year and start sharing your own daily photos!
Also linked up at
Hobo Mama
and
NPN
.