2/8. Something Orange
This was the first photo I took after my hard drive died. It ended up being a lovely day, so we went to a park, which had some of those strange Swedish climbers. Moira had a great time, Davis was a little off put.
2/9. Guilty Pleasure
Moira loves going to the thrift store with my Dad, because she gets to pick out any books she wants. We have a lot of media tie in books now.
2/10. 3 O'Clock
I caught the cold the kids had, so instead of doing something fun while the baby sitter was here, I took a nap.
2/11. Entrance
They love working at cross purposes.
2/12. Where You Ate Lunch
In the car, on the way home from preschool.
2/13. Walking
We went to a birthday party with dear friends. I never get tired of taking pictures of this kid and her Daddy.
2/14. Love Is
Making dessert for the family for Valentine's Day, and placing the marshmallows just so.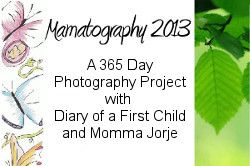 This post is part of the
Mamatography 2013 Project
with
Diary of a First Child
and
Momma Jorje
.
We are taking (at least) a photo a day to keep a record of our year. Join us at any point during the year and start sharing your own daily photos!
Also linked up at
NPN
and
Hobo Mama
.