24. Stripes
I love our new stripey art room tablecloth.
25. Landscape
The landscape of lights we can see down the hill.
26. Together
This was the first thing I saw when I came downstairs. Awwww.
27. Sun
There was no sun this day, but my little sunshine was there. He was in a horrible mood, and was very distressed that sitting in the car seat didn't make us go somewhere.
28. Through
Moira's first time with a needle!
29. Grow
I took a photo (a couple actually) of this day, and then my photo editor flipped out and decided to delete a bunch of the new batch of pictures, including these. Have a picture taken at another time as a booby prize!
30. Down
It was watch week at Moira's ballet class again. I love how much she loves the structure of ballet. It's actually made her willing to dance in the rest of her life, which was always something she was too nervous to do. Plus, they do a "Brain Dance" at the beginning of every class, which has a lot of yoga movements in it, and the other day when she got angry at Walker and I, she ran off and came back calmer a few minutes later, having done the brain dance in her room.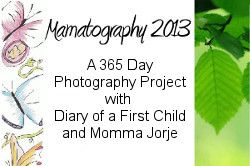 This post is part of the
Mamatography 2013 Project
with
Diary of a First Child
and
Momma Jorje
.
We are taking (at least) a photo a day to keep a record of our year. Join us at any point during the year and start sharing your own daily photos!
Also linked up at
Hobo Mama
and
NPN
.