10. One O'Clock
I twisted my ankle right before Walker sliced his hand open on New Years, so I forgot to take care of it. I've been trying to remember to ice it during nap time, so this was my view at 1.
11. Water
Steam from my tea kettle. Because it was a crazy sunny day here.
12. Surprise!
13. Circle
Dim Sum lunch with my Skittles!
14. Something Yellow
A very strange poster at the new MOHAI, in the Seattle in film exhibit.
15. An Ordinary Moment
This happens dozens of times a day, especially if there is something interesting on the table. Like the art project Moira is working on. I am trying to work on engaging him in our activity while he is in the chair, but it's a slow process.
16. Two Things
Moira's friend Mikko was coming over this night, and she was so excited she made him two pictures and a card. Yes, that is a giant puddle of glitter glue.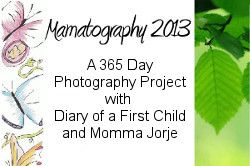 This post is part of the
Mamatography 2013 Project
with
Diary of a First Child
and
Momma Jorje
.
We are taking (at least) a photo a day to keep a record of our year. Join us at any point during the year and start sharing your own daily photos!
Also linked up at
Hobo Mama
and
NPN
.