3. Heart
I absolutely love the way Davis sleeps with his butt in the air.
4. The view from here
Since I already took a picture of the literal view from my house, I decided to take a micro view of the dishes I was doing.
5. Movement
Davis is convinced he can figure out how to open this cabinet we tied closed if he just uses the right tools. He's probably right.
6. Mine
A glimpse at my costume for this year's Norwescon.
7. Street
I kind of didn't want to take a picture this day, but it got overexposed in this cool way.
8. Something beginning with 'T'
A trio! These three have finally figured out how to play together, and now they spend the whole class moving as a pack. Next up, we figure how to keep our 4th member from being completely overwhelmed by their energy so she wants to play too.
9. Paper
Fliers at ballet class.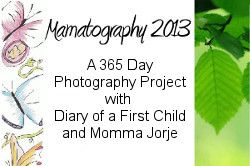 This post is part of the
Mamatography 2013 Project
with
Diary of a First Child
and
Momma Jorje
.
We are taking (at least) a photo a day to keep a record of our year. Join us at any point during the year and start sharing your own daily photos!
Also linked up at
Hobo Mama
and
NPN
.