This is the other big project I want to do this year. A photo a day, for 2013. I've done this before, although to get 365 photos took me longer than a year. At least for now, I'm combining Mamatography with the
photo a day prompts posted by Fat Mum Slim
. I'm hoping (and so far this is true) that it will be both inspiration on days when I am feeling inspired, and a way to phone it in on days I'm not.
It is recommended by people who did Mamatography last year, that you work at least one week behind, so this first post will only have two pictures.
This also means I will likely not be doing Wordless Wednesday, since these are supposed to post on Wednesdays, and have words attached and all. I might do photo Fridays instead, because, if you haven't noticed by now, I believe there can never be enough photos! More I say! More!
1. Today
The first day of the new year was absolutely glorious. So, we of course stayed inside all day. :) This is the view from our main floor. Well, one of the views.
2. Something New
I can talk Davis into climbing into his high chair when he's hungry! Now if we could just convince him to stay sitting while in there.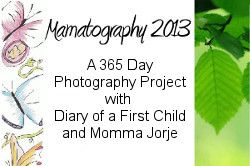 This post is part of the
Mamatography 2013 Project
with
Diary of a First Child
and
Momma Jorje
.
We are taking (at least) a photo a day to keep a record of our year. Join us at any point during the year and start sharing your own daily photos!
This post is also linked up at
Hobo Mama
and
NPN
.