I joined a quilt block swap recommended by
jennicakes
. This is my second month in, and my current partner has a color palette of neutral.
It turns out that I am really bad at neutral. I keep trying to arrange fabric and color creeps in. The first block I'm working on is a print I'm embroidering over to tone the colors down, but I'm stuck on the second. I now have two possible choices in my head. The first is this block,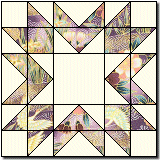 . I've got muslin and a neutral marbled fabric for the star. But Walker suggested that I could applique Switzerland on a block. Because nothing is more neutral then Switzerland. I even found a map that is done in neutral tones,
here!
That appeals to me, but I worry that it may be too weird. What do you think?